VISA Gift Card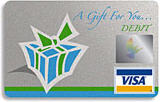 Looking for the perfect gift? A VISA Gift Card from Catholic Federal Credit Union is a prepaid card that is accepted anywhere VISA is accepted and can be purchased for $25 - $1,000. Each gift card has a $3.00 surcharge load fee if purchased at a Catholic Federal office location or $5.95 if purchased online.

VISA Gift Cards are ideal for Christmas, birthdays, weddings, graduations, or any special occasion.
Prepaid VISA Reloadable Debit Card

The VISA Reloadable Debit Card is a prepaid reloadable card that carries a cash amount determined by the cardholder up to $5,000. Each time the card is used, the purchase amount is deducted from the available balance. It is one of the most convenient and safest alternatives to carrying cash. With no credit checks or bank accounts needed, it's the easiest way for you to budget your finances or provide a financial tool to a family member. Certain fee's apply, contact the credit union for more information.

The card can be used to make purchases everywhere VISA debit is accepted and to obtain cash at any VISA or Cirrus ATM worldwide.

You will receive a personalized card via mail after the first value load. Once you activate your personalized card, your funds will be transferred to the personalized card and your instant issue card will be closed.

You can reload your VISA Reloadable Debit Card at any participating financial institution or at any merchant that displays the VISA ReadyLink logo.

Purchase transactions are unlimited, up the balance remaining on the card. However, for the protection of the cardholders, there may be limits to the number of reloads and ATM withdrawals performed within a certain time period.

If you have a dispute on your card, you can fill out a dispute for at www.hcprepaiddebit.com or call the customer service number (866) 466-8084 and they will walk you through the process.
VISA TravelMoney Card

The easy way to travel! Don't risk losing cash or having stolen credit cards when you're far from home. A VISA Travelmoney card is a prepaid reloadable VISA debit card which offers you a safe and convenient alternative to traveler's checks, cash and credit cards. It is a simple and smart way to carry, use and budget your travel funds. Certain fee's apply, contact the credit union for more information.
Easy to use: Use your card at over 25 million merchants worldwide. Obtain local currency at over 1 million VISA and/or Cirrus ATMs around the world and avoid standing in line to exchange foreign currency.
Emergency card and cash replacement: If lost or stolen, your VISA TravelMoney card can be replaced or you may obtain an emergency cash dispersement virtually anywhere in the world, generally within one business day. (additional fees apply)
Zero Liability: Your VISA Travelmoney card is protected under VISA's zero liability policy. Visit VISA.com to learn more.
Lost Luggage Reimbursement: Get reimbursement up to $1,000 to replace your luggage and its contents if the loss of your checked or carry-on luggage is due to theft or misdirection of an airline, train, or cruiser bus line. Reimbursement is not contingent upon the purchase of travel with the new VISA Travelmoney card.
Purchase Security: If you purchase an item with your VISA Travelmoney card, your purchase may be protected in the event of theft, fire, vandalism, discharged water or weather up to $500 per claim.
Travel & Emergency Assistance: Your VISA Travelmoney card brings you peace of mind while traveling. Get translation assistance 24 hours a day, medical and legal referrals, emergency trip arrangement, and send emergency messages to relatives.
Whether your travel takes you abroad or it keeps you close to home, experience the safety and convenience of your VISA Travelmoney card.