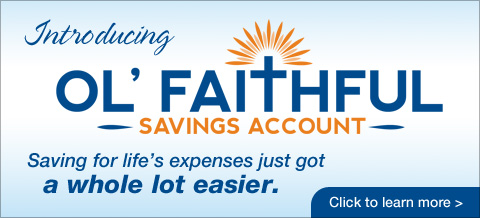 Introducing Ol' Faithful Savings Account
The Easy & Dependable Way to Save for Life's Expenses
When it comes to saving your hard-earned money, 3 things are important: safety, simplicity and most of all, discipline! That's why we developed our newest account – Ol' Faithful Savings Account.
With Ol' Faithful, saving money is automatic! You tell us how much and how often you want to save. For example:
$15 every week $50 every month
$25 every 2 weeks The choice is yours!
We then schedule the required account transfer and the money comes right out of your Catholic Federal checking account. Once Ol' Faithful is set, you can relax and watch your savings add up.
There's no minimum opening deposit requirement, so it doesn't matter how much (or little) you would like to save, we can help you get in the habit of saving for life's expenses. If something comes up, your money is always available for you to access. Call us today and we can open the Ol' Faithful account over the phone for you!