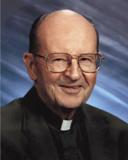 The Msgr. Forbes scholarship program, which originated in 1982, was inspired to honor the legacy of the late Msgr. Eugene A. Forbes whose dedication and commitment to encouraging the pursuit of higher education, coupled with the credit union's philosophy of 'people helping people', continues to be an integral part of Catholic Federal Credit Union.

The college scholarships are open to members of the credit union who are planning to attend or are currently attending a college, university, community college, or a trade or technical school. The award is based upon the student's personal achievements, scholastic accomplishment, financial need, community service, and grade point average.

Since 1982, the Msgr. Forbes Scholarship Committee has awarded more than $1.4 million dollars and over 3,000 scholarships to students who want to begin or continue their education.